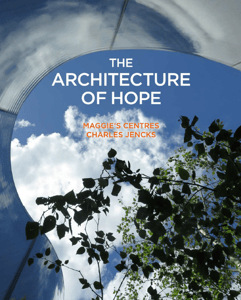 £

25.00
The Architecture of Hope is the story of our centres, and how we have grown over the past 25 years to help people to live well with cancer.
Never has the importance of the built environment and health been more important and topical than it is now.
For over 25 years our Co-Founder and Architectural Historian, Charles
Jencks and our CEO Dame Laura Lee, supported by a plethora of outstanding architects, landscape and interior designers, have championed the impact that design can have on health.
Ever since the first Maggie's centre opened in Edinburgh 25 years ago, our professional teams see the positive impact our buildings, interiors and gardens have on people living with cancer and their families and friends.
In this third edition of The Architecture of Hope, the last book Charles Jencks wrote before he died in 2019, we celebrate the evolution of the concept that buildings can heal, the legacy Charles left behind and new essays exploring the relationship between cancer and design and the future of cancer care.
This new edition includes the last major writings by Charles Jencks and information on all of our new and currently planned centres.
Postage and packing is £4, postage to UK addresses only.